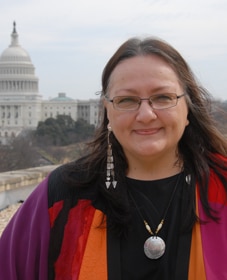 Native American Activist Known For Repatriation & Anti-Racism Lawsuits Against USA
Suzan Shown Harjo is one of those Broads who just never stops. In high school, she learned about 3,000 racist sports mascots across the US. A few years later, she started a foundation dedicated to eradicating those mascots. When she went to a museum with her mother and discovered that their own property was on display in one of the exhibits, Suzan dedicated part of her life to repatriation lawsuits to get Native American artifacts out of museums and back to their rightful place.
She was the primary plantiff on the lawsuit to change the name of the Washington R*dsk*ns (back in 1992!).
Her list of accomplishments is long, each one greater than the last. Check out her full story here, on Broads You Should Know.